Control and Own Your Backup Storage
The Challenge
Traditionally, enterprises use backup appliances on-premises to receive backup sources from servers and desktops around the company network. It is a very secure setup because the backup data sits inside the appliance. However, it posts a challenge for remote devices because remote devices are not always inside the company network and the VPN (virtual private network) from remote devices are not always on to observe certain backup schedules.
On the other hand, cloud backup solutions like Carbonite and CrashPlan can backup remote devices to cloud directly, solving the problem for remote backup. However, the backup destination is in an opaque location, controlled by a 3rd party. This becomes problematic when there are business policies to prevent data replication to locations controlled by 3rd parties.
The Solution
CentreStack cloud backup solves both these problems. First of all, CentreStack server maintains connectivity with remote PCs and file servers via HTTPS/SSL so the connection is always on. Which means that remote PCs and file servers can always leverage CentreStack's communication channel and data channel to backup through the CentreStack backup appliance. And since CentreStack's cloud backup is storage agnostic, allowing you to backup to a storage service under your control, you can now provide continuous backups of your file servers and endpoints to a storage service under your control, or to the CentreStack defaults.
---
Architecture
End-2-End Self Hosted Backup Solution
The following data flow illustrates the basic architecture and function for this solution.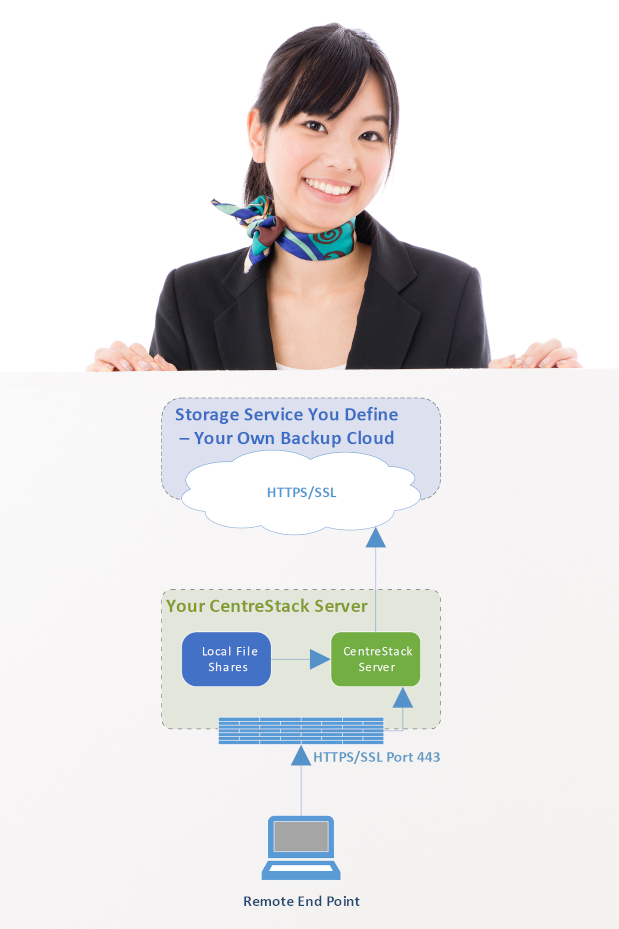 Step 1
Plan where you want to set the backup storage destination. It could be in Amazon cloud, Azure cloud or any data center you prefer.
Step 2
As usual, turn on the cloud-backup feature from CentreStack. During the configuration, setup the backup storage service to where you have planned.
Step 3
Local file server will backup to your defined storage location via CentreStack server.
Step 4
Remote PCs and remote file servers have agent software connecting them via HTTPS/SSL to the CentreStack server for the backup and restore.